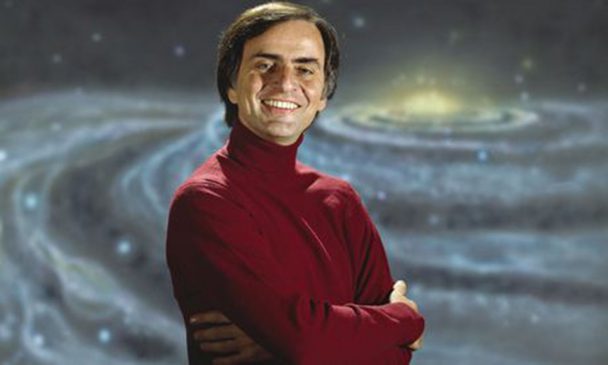 Astronomer Carl Sagan, most widely known for the original Cosmos television series, was also a prolific writer covering topics from hoax debunking, alien abductions and spirituality.  Ultimately, his writings serves to propel humanity towards scientific method.
Though he projected optimism, his logical deduction of our fall towards a dysfunctional (dystopian?) society is quite despairing.
"Science is more than a body of knowledge; it is a way of thinking. I have a foreboding of an America in my children's or grandchildren's time—when the United States is a service and information economy; when nearly all the key manufacturing industries have slipped away to other countries; when awesome technological powers are in the hands of a very few, and no one representing the public interest can even grasp the issues; when the people have lost the ability to set their own agendas or knowledgeably question those in authority; when, clutching our crystals and nervously consulting our horoscopes, our critical faculties in decline, unable to distinguish between what feels good and what's true, we slide, almost without noticing, back into superstition and darkness." – Carl Sagan.
Pale Blue Dot is a photograph of planet Earth taken on February 14, 1990, by the Voyager 1 space probe from a record distance of about 6 billion kilometers (3.7 billion miles, 40.5 AU), as part of the Family Portrait series of images of the Solar System.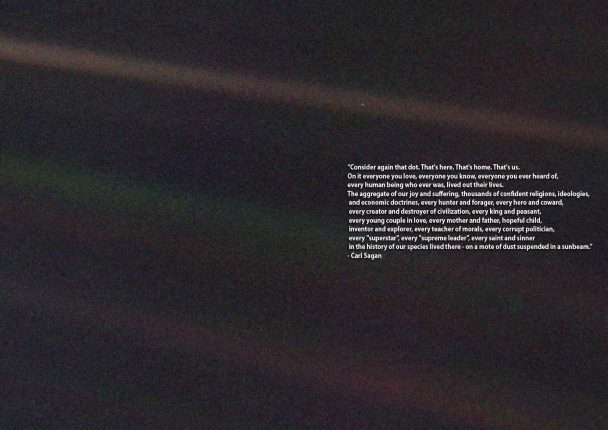 "Consider again that dot [Earth]. That's here. That's home. That's us. On it everyone you love, everyone you know, everyone you ever heard of, every human being who ever was, lived out their lives. The aggregate of our joy and suffering, thousands of confident religions, ideologies, and economic doctrines, every hunter and forager, every hero and coward, every creator and destroyer of civilization, every king and peasant, every young couple in love, every mother and father, hopeful child, inventor and explorer, every teacher of morals, every corrupt politician, every "superstar," every "supreme leader," every saint and sinner in the history of our species lived there – on a mote of dust suspended in a sunbeam."